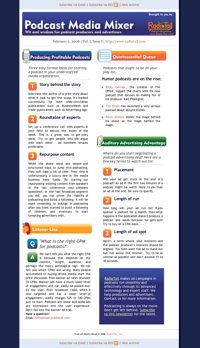 Recently, Greg decided it would be a good idea to start an email newsletter for RadioTail. We looked around the web, talking it over, thinking about if we should use a mailing list program – or just write our own. We had almost resigned ourselves to writing our own when we found Campaign Monitor. I poked around a little bit and it looked perfect. On to designing the page.
This was my first ever html newsletter design – but once I realized that I could just do XHTML/CSS it dint take very long. In about a days time we had our first Podcast Media Mixer – and a website to boot. The design is pure CSS and web standards and that saved me a load of time when I went to check it in IE. Just one box model adjustment and It was good to go. Then I got to work with campaign monitor. Which was just a real pleasure. Even though it looked nice I was dreading having to go through any sort of set up process or archaic multi-screen validation cut-and-paste bullshit. Alas – I was saved – Campaign Monitor was really well thought out and designed.
Now after all that, they sent us a little high-five by putting my design in their Design Gallery along with the likes of IconBuffet and Threadless, two of my favorite sites.
Ahh – the 80 hour weeks begin to pay off.