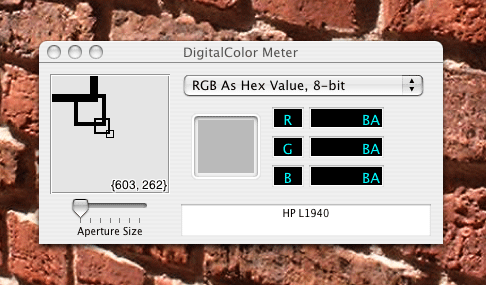 Its the little things that make developing on a Mac such a great experience. Don't even get me started on the fact that Apache came pre-installed and how awesome it is to be running linux in the background. But if your a designer or even just making a flyer and are obsessed with getting the exact right colors – There's a [hidden] OS X Tool just for you.
The Digital Color Meter (Applications > Utilities > Digital Color Meter) can grab any color off the screen and turn it into a hex color ready for the web. Just start it up and move it around the screen. When you've found the color you want hit (Command + Shift + C) and then paste (Command + V) into your CSS. The exact hex color you want. Great for matching palettes to images or on screen controls. Saves the step of opening up Photoshop and doing color sampling.
Another nifty little thing that makes me glad I switched.