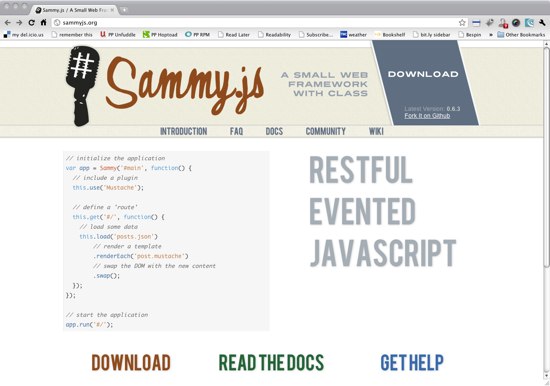 Sammy.js is finally official because now we have a real dedicated website: http://sammyjs.org. It only took two years.
Along with the website the logo I designed before JSConf.eu last year now has an official place to proudly be displayed. Since we're a REAL project now, we're also starting up the SWAG train, so logo stickers are on their way.
The biggest change with the new site is the API documentation has been significantly cleaned up. The text is still being generated from the code itself, but now we have easier navigation, the ability to keep multiple versions of the docs (generated per release) and probably the most fun – method level comments powered by Sammy users and contributors, DISQUS. I've made good use of the method level comments featured in sites like apidock so I'm very excited to see if the community participates here.
Sammy.js is growing up and its been so much fun to see how and where people use it. I don't see that many big changes in the future for it before we push a real 1.0 (See a brief roadmap on the mailing list) and a big goal is to get push the big one oh before this year's JSConf in Portland.